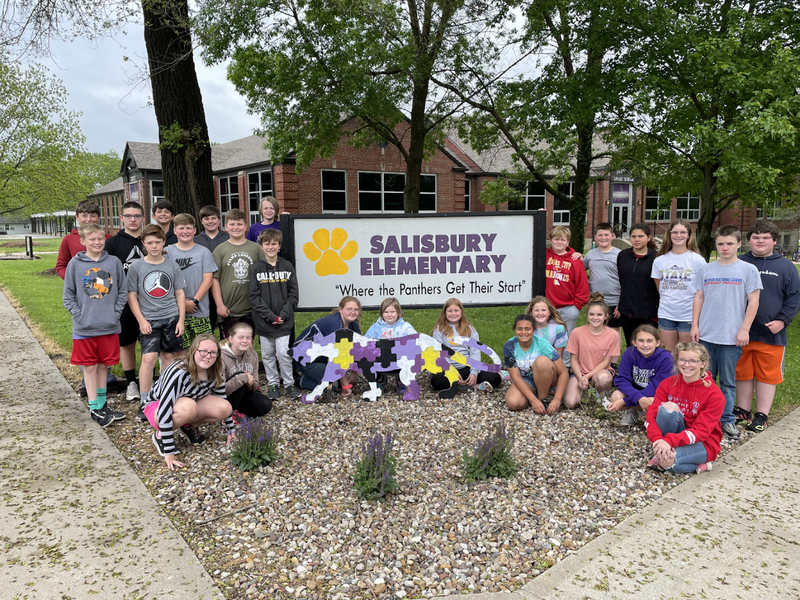 Above picture: Salisbury Elementary sixth graders are shown leaving their mark with the panther designed by the sixth grade STUCO.

Salisbury Elementary school wrapped up the 2021-2022 school year with an end of year assembly on Friday. At the assembly the following students were recognized for their outstanding achievements.
SES Good Citizenship Award-this award is voted on by the students and is given to 1 boy and 1 girl from each class.
Kindergarten- Bo Harmon, Sadie Sears, Brooklyn Bergfeld, Jaxon Manson, Ayden Zunguze
First Grade- Kaden Hafemeister, Mackenzie West, Macie Green, Ethan Littleton
Second Grade- Jase Bowen, Aubrey Farnen, Jayden Kruessel, Gillian Wilhoit
Third Grade- Annie Ramsey, Carter Wozniak, Adyn Henke, Riley Stevens
Fourth Grade- Natalie Biere, Grady Harmon, Peytyn Bennett, Cooper Kruessel
Fifth Grade- Lane Cruse, Abigail Rice, Madison Suttner, Cody Boeger
Sixth Grade- Hayden Ramsey, Morgan Sellers, Lydea Britt, Stephen Thomson
Reading Circle Certificates- received by successfully reading a specified number of books
First Grade- Brett Bachtel, Kaden Hafemeister, Mackenzie West, Kaylin Billington, Miles Cooper, Macie Green, Ethan Littleton, Slade Monnig
Second Grade- Bryson Bennett, Jase Bowen, Sophia Cox, Aubrey Farnen, Austin Givens, Natalie Grant, Cheyenne Hurt, Mason Lewis, Reid Lilly, Lawson Ostermann, Elizabeth Rice, Cailynn Wilson, Sawyer Boss, Jailynn Frock, Luke Henke, Jayden Kruessel, Bretlee Ledbetter, Lanora Leon, Joseph Owens, Ryelyne Rifenberg, Brodey Snodgrass, August Tipton, Gillian Wilhoit
Third Grade- Brantly Atha, Hallie Ball, Miles Biere, Easton Cooper, Aiden Cruse, Annie Ramsey, Jasper Thomson, Nora Atterbury, Brayden Bachtel, Jaxson Billue, Olivia Estes, Issac Harmon, Adyn Henke, Tyler Kothe, Whesley Rexroat, Jameson Schoo, Caleb Shoemaker, Kai Sotelo, Riley Stevens
Fourth Grade- Brylee Alas-Taylor, Natalie Biere, Luke Britt, Aidan Farnen, Gabriella Frock, Grady Harmon, Corbin Henke, Bella Krueger, Brooklyn Moore, Reagan Parker, Westin Pegelow, Ryan Schmit, Kinsey Tiller, Shawna West, Caiden Wilshire, Peytyn Bennett, Gabby Gordon, Kyler Hafemeister, Wesley Harris, Willa Heddesheimer, Cooper Kruessel, Juliana Lewis, Alex McDonald, Sophis Rowe, Xavier Sloan, Dravin Trusty, Garrett Weimer, Jazmin Wilshire
Fifth Grade- Gracie Billue, Zane Blackwell, Alyssa Carrigan, Montgomery Criswell, Lane Cruse, Zane Estes, Avery Green, Olivia Henke, Chesney Kuhlman, Jordin Perkins, Abigail Rice, Vann Teeter, Beckett Cooper, Brett Cruse, Avah Lower, Ken Stone
Sixth Grade- Brynn Bachtel, Hunter Eden, Owen Hamillton, Kayleen Miles, Ethan Moore, Hayden Ramsey, Lucas Sears, Morgan Sellers, Allise Wales, Khloe Wilson, Lydea Britt, Gage Clark, Waylon McDonald, Seleena Ponder, Colton Teter, Stephen Thomson, Nolan Whitman, Asia Woods
SES Honor Roll
3rd Grade A Honor Roll
Hallie Ball, Miles Biere, Annie Ramsey, Jasper Thomson, Nora Atterbury, Jaxson Billue, Issac Harmon, Jameson Schoo
3rd Grade B Honor Roll
Easton Cooper, Aiden Cruse, Emery Nelson, Jaxon Phillips, Adaylee Wagner, Carter Wozniak, Brayden Bachtel, Olivia Estes, Ethan Fainter, Adyn Henke, Tyler Kothe, Brody Nolke, Wesley Rexroat, Caleb Shoemaker, Kai Sotelo, Riley Stevens
4th Grade A Honor Roll
Gabby Gordon, Kyler Hafemeister, Natalie Biere, Luke Britt, Grady Harmon, Reagan Parker, Shawna West
4th Grade B Honor Roll
Peytyn Bennett, Brant Clark, Wesley Harris, Willa Heddesheimer, Alex McDonald, Xavier Sloan, Garrett Weimer, Jazmin Wilshire, Brylee Alas-Taylor, Aidan Farnen, Corbin Henke, Xavier Koenig, Bella Krueger, Westin Pegelow, Ryan Schmit
5th Grade A Honor Roll
Gracie Billue, Montgomery Criswell, Lane Cruse, Avery Green, Chesney Kuhlman, Abigail Rice, Balston Brown, Beckett Cooper, Brett Cruse, Shane Walker, Bailey Weston
5th Grade B Honor Roll
Alyssa Carrigan, Zane Estes, Olivia Henke, Westan Rifenberg, Duke Wilson, Kaiden Jackson, Bryce Manson, Paxton Sanders, Ken Stone
6th Grade A Honor Roll
Lydea Britt, Waylon McDonald, Stephen Thomson, Brynn Bachtel, Hunter Eden, Lucas Sears, Morgan Sellers, Allise Wales
6th Grade B Honor Roll
Gage Clark, Quinn Nugent, Maddox Summers, Colton Teter, Nolan Whitman, Asia Woods, Seleena Ponder, Hayden Ramsey, Autumn Peglow, Kayleen Miles, Owen Hamilton
Standing Ovation Award for Outstanding Musicianship
Kindergarten- Gracie Estes, Ayden Zunguze, Brynna Snodgrass, Jacob Lewis
First Grade- Karsen Nelson, Montana Edwards, Savannah Stevens, Ethan Littleton
Second Grade- Joseph Owens, Sawyer Boss, Bryson Bennett, Natalie Grant
Third Grade- Hallie Ball, Easton Cooper, Olivia Estes, Brayden Bachtel
Fourth Grade- Natalie Biere, Grady Harmon, Cooper Kruessel, Jazmin Wilshire
Fifth Grade- Gracie Billue, Zane Estes, Paxton Sanders, Bailey Weston
Sixth Grade- Allise Wales, Dominic Goett, Waylon McDonald, Lydea Britt

Other Awards
Kindergarten-Good Manners Award- Jacob Lewis, Brooklyn Bergfeld
-Good Behavior Award- Clayton Pegelow, Ayden Zunguze
Second Grade-Addition & Subtraction Ninja Master- Luke Henke, Brodey Snodgrass, Gillian Wilhoit, Jase Bowen
Third Grade-Multiplication Boot Camp Award- Brantly Atha, Miles Biere, Easton Cooper, Annie Ramsey, Jasper Thomson, Nora Atterbury, Brayden Bachtel, Jaxson Billue, Issac Harmon, Adyn Henke, Brody Nolke, Jameson Schoo, Kai Sotelo, Riley Stevens
Physical Education Awards- Outstanding Performance and Sportsmanship
Kindergarten- Lukas Ferguson, Gracie Estes
First Grade- Slade Monnig, Evelyn Bearden
Second Grade- Jayden Kruessel, Sophia Cox
Third Grade- Issac Harmon, Nora Atterbury
Fourth Grade- Alex McDonald, Natalie Biere
Fifth Grade- Vann Teeter, Olivia Henke
Sixth Grade- Stephen Thomson, Khloe Wilson
Art Awards- Outstanding Creativity
Kindergarten- Imogen Atterbury, Clayton Pegelow, Samuel Hartmann, Adyn Zunguze
First Grade- Isabella Morrison, Aislyn Morrison, Evelyn Bearden, Kaden Hafemeister,
Macie Green
Second Grade- Austin Givens, Bryson Bennett, Bretlee Ledbetter, Lydia Stephan,
Sawyer Boss
Third Grade- Jasper Thomson, Adaylee Wagner, Tyler Kothe, Olivia Estes
Fourth Grade- Ryan Schmit, Natalie Biere, Juliana Lewis, Gabby Gordon
Fifth Grade- Beckett Cooper, Seth Farnen, Jordin Perkins, Paxton Sanders, Lane Cruse, Bailey Weston
Sixth Grade- Allise Wales, Owen Hamilton, Lydea Britt, Asia Woods, Khloe Wilson, Autumn Peglow