SES staff in their NEXT LEVEL character shirts at Meet the Teacher Night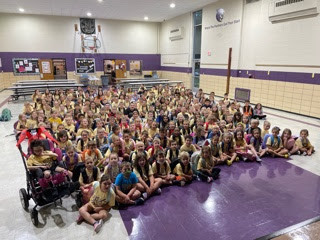 SES students wearing their NEXT LEVEL t-shirts to the
First Friday Panther POW WOW
The Salisbury Elementary would like to thank the following sponsors for their generous donations, allowing each student to receive a Salisbury NEXT LEVEL character shirt. This year SES students are working hard to raise their academics and character to the NEXT LEVEL. All students and staff greatly appreciate the community's support.
Emmerich Family Chiropractic
Salisbury Meat Market
Rural Missouri Crop Insurance Inc.
John and Carol Ratliff
Bossville Wholesalers, Inc.
Michael Berry DDS
Regional Missouri Bank
Forest Green Farmers Mutual Insurance Company
Perry Heating & Cooling
Knights of Columbus
Enyeart Auction & Realty
Salisbury Physical Therapy- Sheila Wooldridge
Bradshaw's Bistro
Britt Farms LLC
Gebhardt Farms, Inc.
Fuemmeler Farms
Amber Henke LMT
R & J Custom Fabrication
Chariton Valley
Ricketts Farm Service
Greening-Eagan-Hayes-Summerville Funeral Home
Moxie Gymnastics-Claire Emmerich
Merchants & Farmers Bank
Buffington Construction
Rustemeyer Plumbing & Heating LLC
Donna Ratliff
Salisbury Chiropractic-Melissa Bosch
Missouri Land & Farm-Dave Atkinson
Lois Duncan-CPA
Air Link Rural Broadband LLC
Just Kidding Childcare-Lesa Scheiderer
Garden Gallery- Wendy Noll
Indigo Ink